note for the mod
I wanted to ask you whether you were interested in a link exchange and/or if I could make a promo post. I didn't see info about it, so thought I should ask you first.
This is my community that I started a few days ago.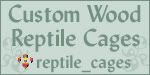 I understand if its not allowed.
Brightest Blessings,
Kasia
Comments {0}